With so much business taking place online nowadays, there has been an increase in scams and fraud online. Individuals believe they can fool internet users into paying money that they don't owe, and many times this is done in a sneaky and suspicious manner. Today we are going to discuss the recent trend where scammers have been targeting guest post clients in the hope of stealing money.
An example of this practice
Email and phone scams have been around for many years now, and often individuals like to pretend they are a large corporation to trick customers into paying them instead of the service provider. The emails often look and have the same tone of voice as those of the company they are acting as, so customers become confused and unsure of who to trust. With threats of losing service or getting charged without action, it's easy to see why so many people fall for these scams.
Recently clients whom we provided guest posts on a blog received a fake email, which comes from someone claiming to be the admin or owner of the blog. It states that your guest post service provider did not pay them the fees for the publication of your guest post, and that if you don't pay, they will remove the post. The email also goes on to threaten further action, such as posting the individual's email address and calling them out online as a scammer. They also often state in the email that they will have you blacklisted on Google.

Text version:
Hello sir,Ma'am
Hope you are fine 
I AM Deleted your Post  
https:// your guest post link
Because I still have not received payment from you . We have lost to much time in waiting for payment . I will wait 24 hours more otherwise All link are removed and add to spam your email
Waiting your reply 
Thank you 
Here is another scam email text, similar to above one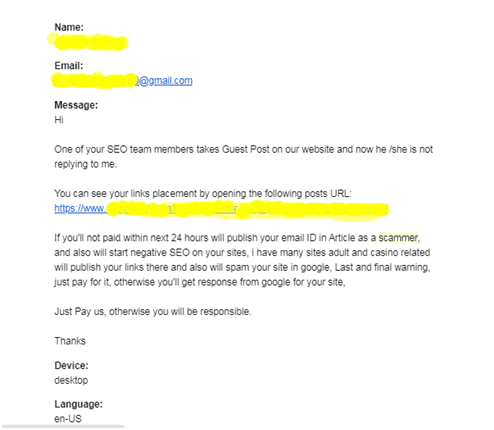 Guest posting has become extremely popular online in the last years, and it's a great way for blogs and companies to work together to promote and link to each other's services. The way these scammers find guest poster's information and email addresses is via the original post. For example, in this post, the targeted link was Levitatingmoon.com. They will find the link in the blog and use this to access the company's website. From there, they'll find a generic contact email, such as info (at) levitatingmoon.com. and send you the scam email they have prepared.
How to spot and avoid these scam emails?
There are a few key things that hint that an email is a scam. These are key to look out for to avoid losing money online:
Grammar and Spelling – Often, the emails are poorly written, with many grammatical and spelling errors. If they don't spell your name or your blog's name correctly, it's quite likely a scam.
Time-Sensitive Threats – These emails are often too forceful regarding a time period in which you must react. They might state that you must act within 24 hours, otherwise their threatened action will take place.
Empty Threats – These emails are full of blatant empty threats, and they are made in a very abrupt and abusive manner.
By knowing what to look for when it comes to spam emails, you can stop scammers from targeting you via your guest posts. In the end, it's nothing to worry about, rest assured you can contact us for more clarification. These scammers are just trying to steal your money, so ignore their empty threats and delete the email.
Update on 1st July 2021
The scammer might look legitimate, and at first, they would pretend to change something on the post (obvious they cannot change anything); next, they will ask for money as an editorial fee.